Mandalay International Airport
Gateway to Asia
Mandalay International airport has been operated by MC-Jalux Airport Services (MJAS) since April 2015 under a Concession Agreement with The Department of Civil Aviation and The Ministry of Transport and Communication.  It was constructed in 2000 with the aid of the Thai Government and is now the largest network hub for domestic and international routes in Upper Myanmar.
Airport Information
| | |
| --- | --- |
| Location  | :  35 km south of Mandalay city, in TadaU Township |
| Airport code IATA / ICAO | :  MDL / VYMD |
| Runway  | :  4,268 x 61(m) |
| Number of Boarding Bridge | :  6 bridges |
| Terminal Total Area | :  37,020 m2  |
| Airport Total Dimensions | : 12,707,000 m2 (3,140 ac) |
| Open year    | :  Sep, 2000 |
| Operation Time  | :  24 hours  |
| Operator  | :  MC-Jalux Airport Services (MJAS) |
There are variety of restaurants, souvenir shops and duty-free shops open on the arrival and departure floors. The post office, money exchange centers, CIP Lounge, travel agencies, a tourist help desk and car rental facilities are available.
Flight Destinations
Mandalay International Airport is a hub in Upper Myanmar, connecting nine domestica and eight internaional destinations.
Access Map
Between the airport and Mandalay downtown, bus and airport taxi services are available. It takes approximately one hour.
The reservation counter of Shwe Nan San Bus is located at the Arrival Lobby. More detail please go to www.shwenansanmyanmar.com.
The Airport Taxi Group counter is located in the center of the arrival at curbside outside of the Arrival Lobby.
MJAS Air Cargo Terminal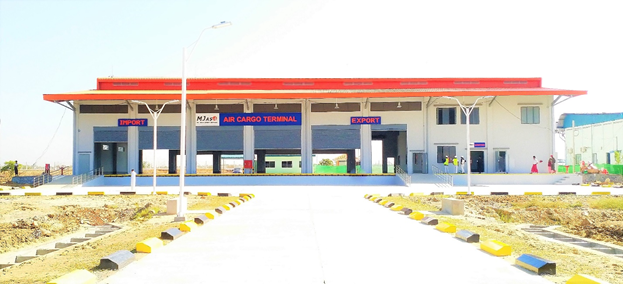 All International airlines based in Mandalay are able to transport your cargo / freight to any destination across the globe using connections at each of the airlines' way points.
Cargo Warehouse handling is operated by MK Hercules Co., Ltd (MMH), a joint venture between MK Co., Ltd in Hiroshima, Japan and Hercules Logistics Co., Ltd, in Myanmar.
Mandalay International Airport is expanding rapidly and is expected to become an important cargo hub in Central and Upper Myanmar.
Operation Hours: Warehouse 08:00 ~ 18:00 / daily
Customs Operation Hours: 10:00 ~ 17:00 / from Monday to Friday (excluding National Holidays)
Contact No. : 02 40 27110 (Ext. 317)